April 2nd - April 16th FIG M&A Activity
---
Now that Q1 2021 has come to a close, RIA deal-making continues to show no sign of slowing down. Q1 2021 recorded 76 transactions. This is not only a 10% increase from Q4 2020, but a new quarterly record for the industry and the third consecutive quarter in which a new record was established. This is attributed to many things, mainly by strong market conditions and a growing sentiment among sellers that the Biden administration could introduce higher tax rates heading into 2022. Read here to learn more about how the red-hot RIA M&A market refuses to break pace.
As fees continue to compress, many firms are showing their value-add by expanding their service model to offer a more holistic wealth management platform and stay competitive. The latest firm to expand its service offering is Brent Brodeski's Savant Wealth Management. Earlier this week, the firm announced that it intends to launch Savant Legal, a law practice under the Savant Wealth Management umbrella thats designed to implement and assist with client estate plans. Read here to learn more about how  this $9bn AUM Illinois based RIA is creating a larger service offering for its clients.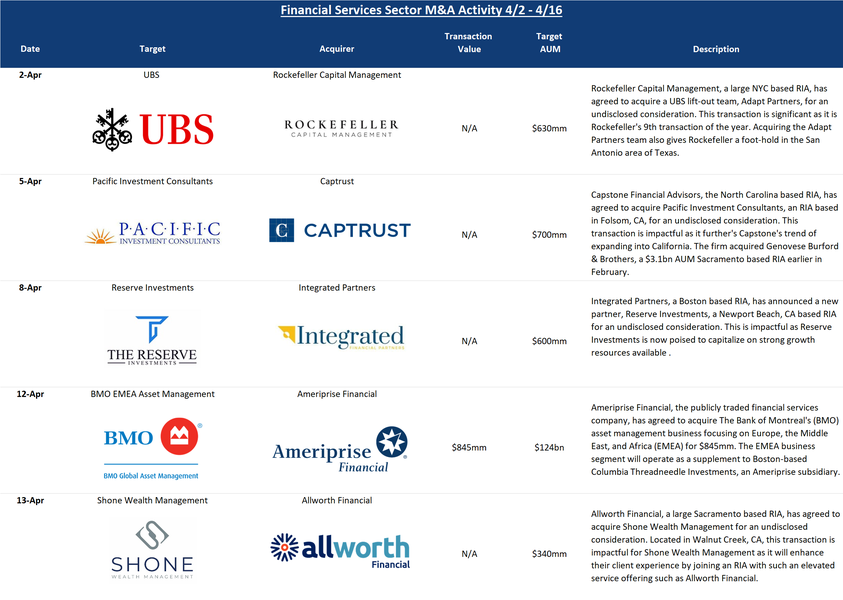 About Republic Capital Group
Republic Capital Group specializes in providing investment banking services to the RIA, Asset and Wealth Management communities.  The firm serves clients throughout the country and clients include a number of industry leaders.
---