March 5th - March 19th FIG M&A Activity
---
Minority equity investments in RIAs shows continued strength this week, highlighted by Warburg Pincus' minority investment in Edelman Financial Engines. The transaction, which did not disclose the consideration, values privately-held Edelman Financial Engines at $7.3 billion. For context, publicly traded Focus Financial Partners has a market capitalization of $3.31 billion, less than half that of Edelman. Read here to learn more about how this monumental transaction and how private equity sponsors are viewing nationwide RIAs.
Creative Planning's Peter Mallouk made headlines last week when it was announced that 10% of the Creative Planning workforce now has an equity interest in the firm. The exact amounts are undisclosed, but it is projected that "the percentage that's owned by employees should increase every year from now and ongoing" according to Peter. The employee equity program is expected to strengthen recruiting of top-talented employees of the firm as well as attract more firms for acquisitions, as Creative is expected to announce the firm's first equity-based acquisition within weeks. Read here to learn more about how one of the top RIA firms in the industry is adjusting its capital structure.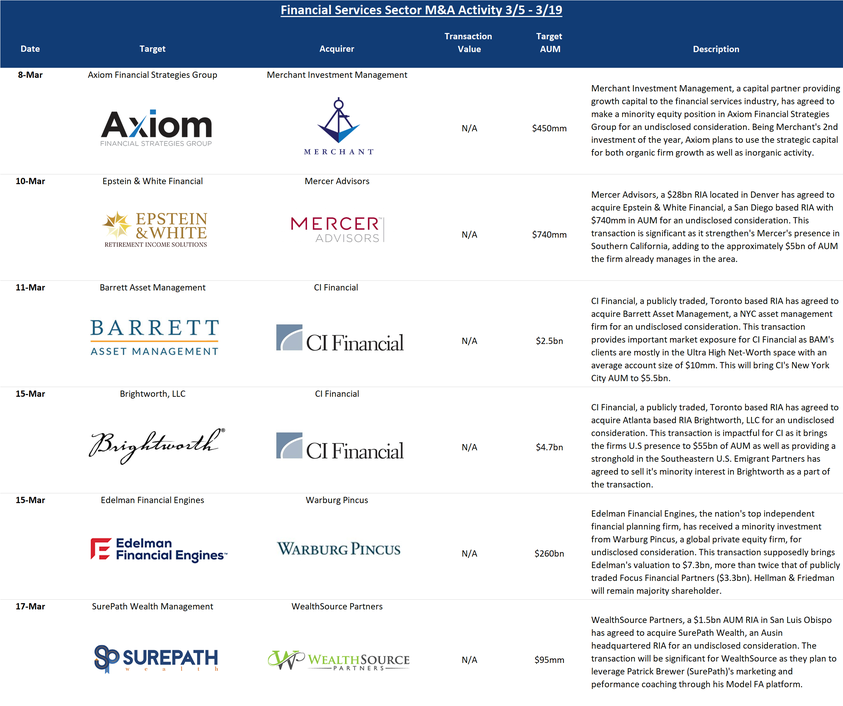 About Republic Capital Group
Republic Capital Group specializes in providing investment banking services to the RIA, Asset and Wealth Management communities.  The firm serves clients throughout the country and clients include a number of industry leaders.
---