January 22nd - February 5th FIG M&A Activity
---
RIA M&A activity starts 2021 off with a record-setting month in January. January 2021 recorded 29 transactions, up 61% from the 18 transactions in January of 2020. This shows not only continuation, but acceleration in the RIA M&A environment. Read here to learn more about how Q1 2021 is shaping up to be a record quarter, and whether this deal volume is sustainable or not.
The current heightened growth state of the M&A environment offers multiple reasons behind the psychology of why business owners choose to pursue M&A activity. Between increased market volatility leading veteran owners to sell and beneficial synergistic effects leading RIA aggregators to buy, there a multitude of reasons to buy, sell, or merge. Read here to learn more about why many RIA business owners are adopting the "sell and stay" method and reasoning to pursue activity.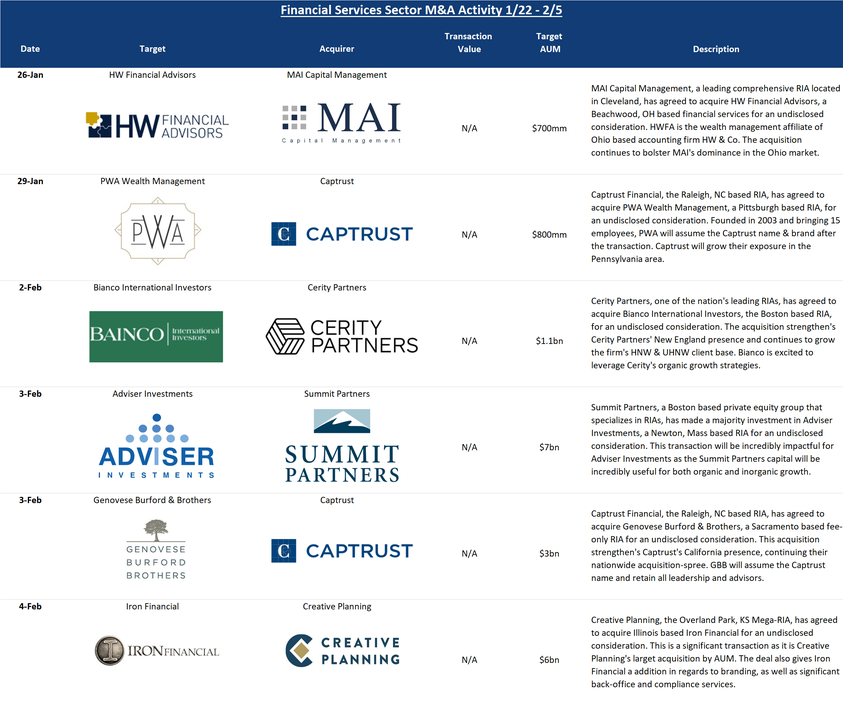 About Republic Capital Group
Republic Capital Group specializes in providing investment banking services to the RIA, Asset and Wealth Management communities.  The firm serves clients throughout the country and clients include a number of industry leaders.
---