January 8th - January 22nd FIG M&A Activity
---
M&A Involving RIAs and wealth managers continues to escalate even as the country continues with the pandemic and is experiencing a new presidency. The 159 deals in 2020 made the year another record breaker in a continuing series of record-breaking years. The M&A figure was 20% higher than the previous year's 132 transactions. Read here to learn more about how the formation of larger firms & "RIA Aggregators" will continue to define the M&A landscape in the industry going forward.
Many industry experts believe that theme of larger RIAs/aggregating firms will continue to dictate the M&A landscape for RIAs. Mercer's start to 2021 is incredibly indicative of this trend, acquiring multiple sub-$1 billion AUM firms in the last few weeks bringing the firm to over $27 billion in AUM. 
About Republic Capital Group
Republic Capital Group specializes in providing investment banking services to the RIA, Asset and Wealth Management communities.  The firm serves clients throughout the country and clients include a number of industry leaders.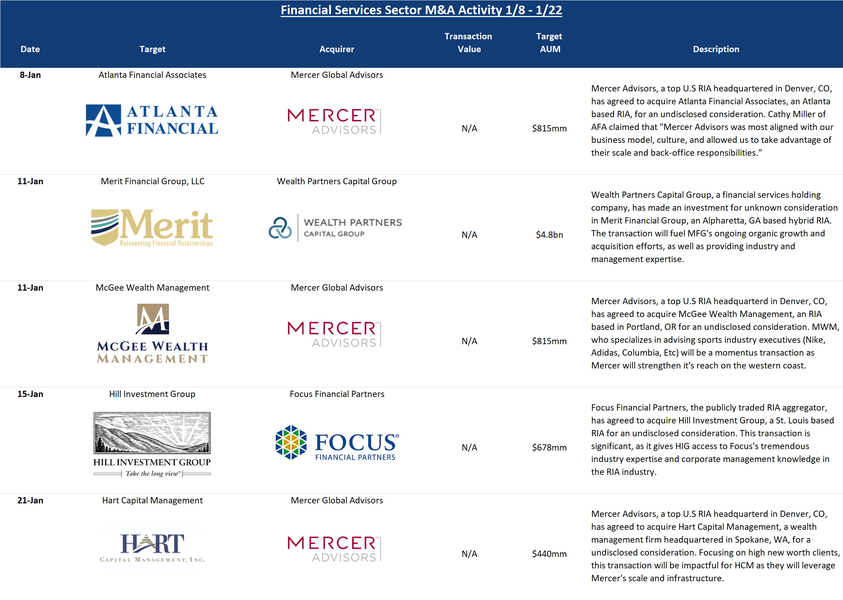 ---