August 21th - September 4th FIG M&A Activity
---
RIA aggregators continue their M&A transaction streak despite COVID-19/election induced fears in the market. Creative Planning executed their largest acquisition to date, making it their third in the last month; while Focus Financial Partners just concluded two transaction in the last week. Further illustrating that the M&A market for wealth management and RIAs shows no sign of slowing down.
M&A activity continued to show momentum despite market turbulence in early/mid 2020. Many experienced leaders in the industry believe that this activity will only continue. Read here to learn more about industry expert's thoughts on how volatility will hasten M&A activity going forward.
Many firms and advisors struggle with finding proper succession planning strategies as 73% of firms do not have a written succession plan, according to FPA. Read here to learn more about Generation X advisors are proving to be the solution for many with this issue.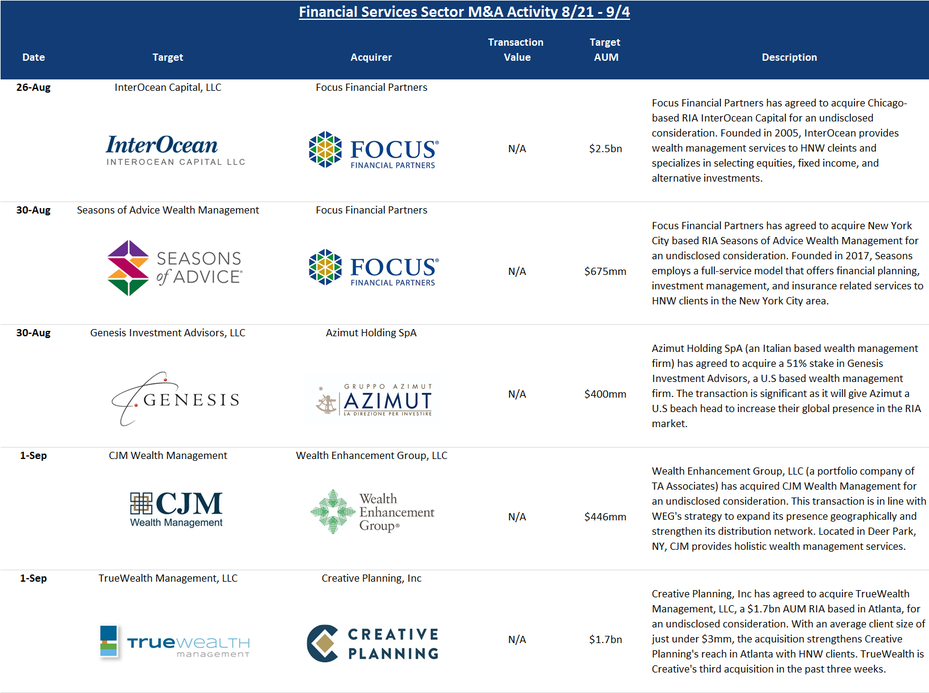 About Republic Capital Group
Republic Capital Group specializes in providing investment banking services to the RIA, Asset and Wealth Management communities.  The firm serves clients throughout the country and clients include a number of industry leaders.
---